Newsroom
Syndicating Youth Voices Across the Globe
Partnering with professional journalists, our student-led media brings youth perspectives on pressing issues of the day via syndication to major outlets like NPR, Marketplace, The Huffington Post, and National Geographic. Youth Radio's coverage has earned some of the industry's highest honors, including the Peabody Award, duPont-Columbia Award, Edward R. Murrow Award, and the Robert F. Kennedy Journalism Award.
view featured Newsroom media
Special Coverage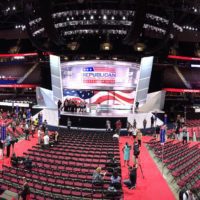 Follow Youth Radio's LIVE coverage from the Republican and Democratic National Conventions in Cleveland and Philadelphia.
Featured Media
3,000 Stories and shows produced annually
Millions of listeners each year
Classroom
Mixing Theory, Skills, and Practice
Through partnership with top professionals and peer collaboration, students enrolled in our training programs learn the skills that lead to the professional content in our Newsroom. Youth Radio's programs build technical skills based on progressive curricula, culminating in deep understanding of the media and technology landscape and a professional skill set that leads to expanded education and career opportunities.
Apply to Youth Radio
view featured Classroom media
Featured Media
Listen Now
As I discover who I am, I want to know more about where I came from. I have a unique story. This is because I am adopted. I am interested in why my parents chose to adopt. I wonder whether other adopted children have the same experience as I do.
420 Youth served annually
Featured Raw Show
Listen Now
Welcome to the 2nd episode of A lil Somethin' Bout Oakland Radio on Youth Radio Raw.  Make sure you tune in every week on Fridays from 6:15 to 7:35. On this show, you'll hear recent news, personal experiences, and a diverse selection of music. Youth Radio Raw is a weekly radio show produced by Bay Area high…
Creative Studio
Platform for Reflection, Expression, and Innovation
Dedicated to providing students a safe space to discuss issues, unleash their imaginations, and build connections through creative projects. As makers of art, media, and community resources, our youth develop a deep set of life skills to complement their technical training, and build social and cultural capital in their communities.

view featured Creative Studio media
Featured Media
97% High school graduation rate